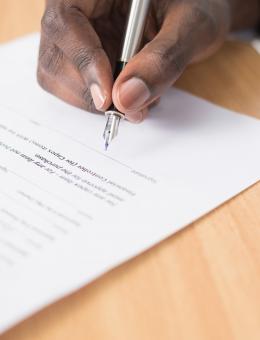 UNDERSTANDING YOUR LIABILITIES AND OBLIGATIONS AS A TENANT
Published 28 October 2023
Tenant farmers have played a major part in British agriculture for hundreds of years, writes Tom Corfield.  Even though the majority of farms are worked by their owners, some 30% of agricultural land in the UK is tenanted.
That makes the Farm Business Tenancy (FBT) one of the most important legally-binding contracts in the sector and one which is commonplace.  Whilst familiar, it is vitally important for those signing up to new tenancies to scrutinise what they are committing themselves to in terms of liabilities and obligations.
There are two important terms which are often found in such documents.  The first is 'To Keep', as in keeping and maintaining all aspects of the farm in the condition they are in at the start of the tenancy – maintaining the 'status quo' if you like.  This can refer to buildings, roads and tracks, fencing, gates, ditches, drains and culverts, and hedges.
Contrast this to the alternative which is 'To Put and To Keep', as in to put into good order and repair such structures which are currently not in good order and repair.  This is a serious obligation for a tenant which could result in substantial cost and is something most tenants would do well not to sign up to.
Even for 'To Keep' clauses, which are generally reasonable, it is vital that the tenant understands what is involved.  For example, expectations about the maintenance of hedgerows might compromise a tenant's access to environmental schemes if they have contradictory obligations.
It is in everyone's interests to record the condition of relevant structures at the start of the tenancy: the 'Schedule of Condition'.  This will ultimately be the evidence during and at the end of the tenancy when assessing the condition and if any claims for dilapidations are due.  As the old phrase goes 'a picture is worth a thousand words'.
The main advice for tenants in particular is to take the time to go through the FBT agreement with a fine toothcomb, ideally taking expert advice to ensure you understand what your obligations and liabilities will be and what you are permitted to do under the terms of the tenancy.
A Farm Business Tenancy agreement is there to protect both landlord and tenant.  It outlines what is expected of both, and if fairly drafted, should be the basis of a contract which will be mutually beneficial.
Share this story