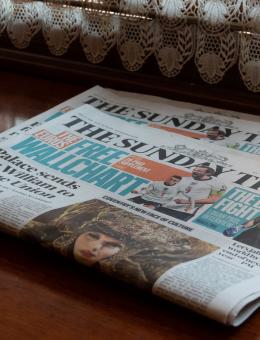 THE REALITY BEHIND THE HEADLINES
Published 6 October 2023
Headline writers have a tendency towards the sensational, and their words can and do have an effect on consumer confidence, writes David Thornton.  So it is heartening to see that buyers and sellers seem to be disregarding the more hyperbolic messages about the housing market which scream from the front pages of some of the more hysterical national newspapers.
Looking at such headlines, you could be forgiven for thinking the housing market is in a state of collapse, with no houses being sold, and if they are, for a fraction of their value three months ago.  This is, of course, nonsense.
It is undeniable that 15 consecutive monthly interest rate rises have had an effect on the market.  But unlike tabloid journalists, most people are sensible and understand that this is the kind of perfectly normal, relatively minor adjustment which happens from time to time, especially after a sustained buoyant period.
The truth (not something which always bothers the headline writers) is that there is still plenty of confidence in the market, people still need and/or want to move house, and transactions are proceeding apace – at least in our part of the country.
There has been a minor adjustment in prices, but certainly not the 'crash' so beloved of those whose job it is to sell newspapers.  Despite a small adjustment, prices are broadly where they were a year ago, which let's remember was after a sustained period of growth.
Demand has held up remarkably well, especially in popular market towns such as Aylsham and Holt, and right across north Norfolk.  People are still following the dream of finding their perfect home.
In Norfolk, and north Norfolk in particular, demographics mean that we see a larger proportion of cash buyers than elsewhere (largely driven by downsizing and people moving from London and the southeast), and of course these buyers are unaffected by interest rate rises.
Even for those needing a mortgage, the fact that interest rates appear to have peaked, and that fixed term mortgage deals are once again coming down in price, is also boosting confidence.
As ever, those who are given advice which doesn't reflect the realities of the market (or who refuse to take that advice) may find it more difficult to sell.  Setting a realistic asking price remains crucial, both to attract potential buyers, and to ensure that properties don't get 'tainted' by subsequent price reductions.
'Housing market doing perfectly fine' is not a headline which is likely to shift many papers from the newsstands or garner many online clicks.  But it does rather more accurately reflect the current state of the market than some of the more fantastical headlines we have seen in recent times.
Share this story