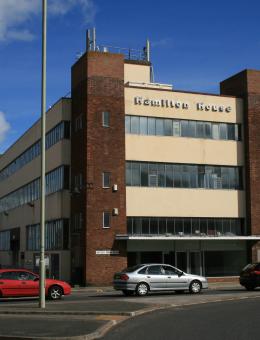 TWO MAJOR COMMERCIAL PROPERTY DEALS 'INDICATIVE OF RENEWED CONFIDENCE' IN LOWESTOFT, SAYS PROPERTY EXPERT
Published 18 January 2016
The completion of two major commercial property deals in Lowestoft is indicative of a renewed economic confidence in the town – but a third river crossing is vital if it is to fulfil its potential, according to the property expert who negotiated both deals.
Craig Knights, partner at Norwich-based Arnolds Keys, which has an office presence at The Orbis Centre, has closed the sale of two high-profile commercial sites in recent weeks, and is predicting something of a renaissance for employment in the town.
20,000 sq ft landmark office building Hamilton House, on Battery Green Road, has been sold in a £400,000 deal to East Coast Community Healthcare, which is relocating its headquarters to Lowestoft from Beccles.  The organisation will occupy the upper floors of the building, while Custom Kitchens will remain a tenant in the ground floor retail space.
Meanwhile a 7.54 acre waterside site at Nelson's Wharf on Victoria Road in the town has been bought by another Beccles-based company, Scenic Projects, as its new headquarters.  The company, which manufactures theatrical sets, plans to refurbish the 15,000 sq ft of warehousing and 7,800 sq ft of workshops at the site, which adjoins the former Sanyo factory site on Lake Lothing.
"These two significant commercial property deals are indicative of a renewed confidence and interest in Lowestoft as a place to do business," said Mr Knights. 
"With new employment being attracted to the town from elsewhere, as well as the potential for Lowestoft to become an important centre for the offshore wind energy sector, this could be the moment when the town's fortune starts to turn round.
"However, a very important part of this will be the third river crossing.  At Arnolds Keys, we talk a lot to local, regional and national companies about the town, and many express a reluctance to invest because of the problem of access both within the town, and in and out of it.
"A third river crossing is a vital part of Lowestoft's future, and it will open up the town to more investment, both from the offshore wind energy sector, and other investors such as those who have been involved in these two property deals."
Share this story