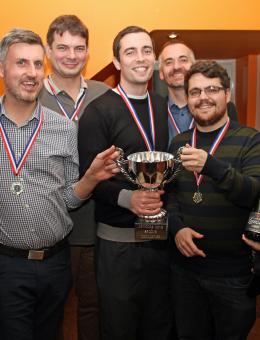 LARKING GOWEN CARRIES OFF SPORTS CHALLENGE TROPHY
Published 23 November 2015
Accountants Larking Gowen have proven themselves to be the most sporting professional firm in Norwich – after winning the Arnolds Keys Sports Challenge trophy, following a summer of sport.
The Challenge saw teams from 12 city professional firms battle it out over a number of sporting events across six months, including canoeing, karting, badminton and ten-pin bowling.
This is the sixth time that the annual Challenge has been run, and this year it has raised over £4,400 for local charity Break, Arnolds Keys' nominated good cause for 2015.
It is the first time that Larking Gowen have won the trophy, with Arnolds Keys coming second and rival accountancy firm Lovewell Blake taking bronze medal position.
Solicitors, architects, property professionals, accountants and financial firms took part in the Challenge – and now Arnolds keys are looking for firms to sign up for the 2016 event.
The Arnolds Keys Sports Challenge has established itself as a popular way for professionals to spend time together, keep fit, and raise money for a good cause," said Arnolds Keys partner Craig Knights.
"When we first ran the Challenge in 2010, it was going to be a one-off, but those taking part enjoyed it so much that it has firmly established itself as an annual event.
"We are now starting to plan the 2016 Challenge, and would love to hear from any professional firms who would like to put up a team."
The final positions were:
Larking Gowen
Arnolds Keys
Lovewell Blake
R.G. Carter
Alan Boswell
Chaplin Farrant
Mills & Reeve
Leathes Prior
Howes Percival
Hansells
Ashton KCJ
Cozens Hardy
Share this story