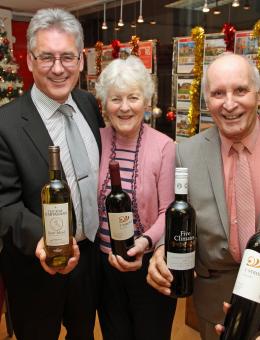 CROMER COUPLE SAY 'CHEERS' TO NORFOLK ESTATE AGENT
Published 14 December 2015
A Cromer couple will be popping the corks to celebrate Christmas, after winning a case of fine wine from estate agents Arnolds Keys.
Mervyn and Iris Winn called into the Cromer office of the Norfolk-based agents to receive a box of 12 bottles of wine, which they won in a draw carried out amongst all customers who had filled in a customer satisfaction questionnaire.
Mr and Mrs Winn used Arnolds Keys to sell their home in Ellen Hill in Cromer earlier this year, before moving into a mews apartment in the town.
"We have sold many properties during a 44 year relationship with Arnolds Keys, and with our latest move, once again everything went smoothly – it couldn't be better," said a delighted Mr Winn. 
Manager at Arnolds Keys' Cromer office Alan Prior, who presented the wine to Mr and Mrs Winn, said, "Everybody likes to think that they give a good service, but it is only when you ask your customers what they really think that you find out the truth, including those inevitable areas where you can improve – that is why our customer satisfaction questionnaires are so important to us.
"Receiving comment such as those from Mr and Mrs Winn is a real testament to the hard work of the team here in the Arnolds Keys Cromer office.
"To say thank you to our customers for taking the time to give us their feedback, we enter all those who do so into a regular draw, and Mr and Mrs Winn are the latest winners.  We hope the prize will help them celebrate Christmas in style."
Share this story