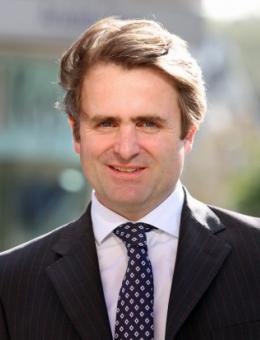 PREDICTING THE FUTURE
Published 23 December 2015
At this time of year, it is traditional to reflect on the past 12 months, but other than saying that it has been a pretty good year both economically and in commercial property terms, I prefer to look forward: the big question is what 2016 will bring Norfolk's commercial property market, writes Guy Gowing.
Overall, I am optimistic.  That is not to say that there still aren't many uncertainties which could affect our prosperity, but in general the picture is positive.  Sustained low interest rates (which don't look like moving any time soon), growing employment rates and low inflation are all contributing to a sense of confidence, and that is the most valuable commodity in any economy.
Commercial property is such a good barometer of the wider financial situation, because it reflects so many factors: investor activity, capital growth and yields.  Above all it is dependent on strong demand from the wider economy.  If businesses are growing, they need more offices, shop units and industrial buildings – it really is as simple as that.
So I'm going to stick my neck out and make three concrete predictions for 2016.
First, next year will see a continued low supply of freehold property for owner-occupiers, in every sector of commercial property – driven by a further improvement in demand as the growth in the economy strengthens.
This can only lead to an increase in prices, and I predict that office freehold costs will rise by between 10 and 15 per cent during the year, with retail and industrial properties rising by around five per cent.  The demand will come for the greater part from owner-occupiers, but the price increases will affect everyone in the market, including speculative investors.
The second trend for 2016 will be the continued short supply of good quality office accommodation in Norwich, driven by a similar increase in market activity, but also by the diminution of supply as office buildings are converted into residential accommodation under the Permitted Development Rights, which were extended in the Chancellor's autumn statement.
Expect therefore to see rents for Grade A office space rise from their present level of £15-£16 per square foot to £18-£20 per square foot – an increase of around 23 per cent.
Finally, 2016 will see the new Enterprise Zone areas of Norwich Research Park and Scottow Enterprise Park come into being.  If the success of the current Enterprise Zone areas such as Beacon Park in Great Yarmouth are anything to go by, the considerable incentives on offer (including a five year business rates holiday) could attract significant new investment into these areas.
Don't forget the knock-on effect of that investment.  If new jobs are created, especially high-value jobs, then the ripples will be felt far and wide, not least in the residential property sector – the new Enterprise Zone areas could be a big boost both for the existing property market, and for new home construction.
All in all, a bullish view of the new year.  After the longest recession many of us have lived through, we are finally in a period of confidence and growth.  Let us hope it is not derailed by the unforeseen, but is sustained right through 2016 and beyond.
Share this story