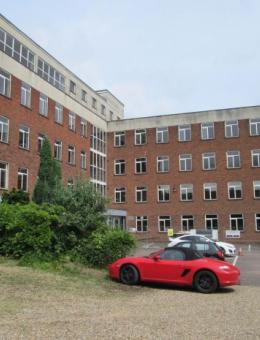 Prominent Norwich Office Block To Be Converted To Flats In £1.5 Million Deal
Published 20 August 2015
A prominent office building on the eastern edge of the city centre has changed hands in a £1.5 million deal – and is set to be the latest office block in Norwich to be converted into residential use under the 'Permitted Development Rights' (PDR).
Eastgate House on Thorpe Road, a 1970s built 25,544 sq ft building, has been bought by a private investor, who plans to convert the building into 37 apartments under PDR, a ruling designed to bring lower standard commercial buildings back into use as residential accommodation.
The city has already seen several high profile examples of this happening, including Aldwych House in Bethel Street, the former Lovewell Blake office in Prince of Wales Road, and Woodland Place on the northern fringes of the city.
"Eastgate House is an excellent example of bringing an ageing commercial building back to use through converting it to residential accommodation," said Guy Gowing of Arnolds Keys, which handled the sale.
"Built in the 1970s, it is no longer really fit for purpose as offices, and has stood empty for some time, except for a small suite on the ground floor which is let to Norfolk County Council as a Coroner's Court. Through the Permitted Development Rights, the new owner is free to invest in the building, creating 37 new apartments.
"By removing such low-grade office blocks from the Norwich market, investors will be encouraged to respond to demand by building new, high-quality office space, much more in line with the needs of modern business. So this kind of transaction is good for the wider city economy."
Planning permission was granted in 2013 to convert the five-storey building into residential accommodation, with subsequent consent given for the construction of a new stairwell and lift shaft, a new canopied entrance, and an extension to the fourth floor.
Share this story