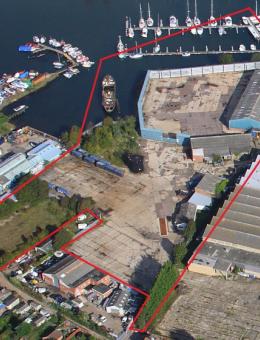 Important Waterside Site In Lowestoft On The Market
Published 15 May 2015
A key 7.54 acre waterside site in Lowestoft, complete with over 25,000 sq ft of warehousing, workshop and office buildings, has been put up for sale in Lowestoft.
Nelson's Wharf, next to the former Sanyo site on Lake Lothing, is within the area identified as the Kirkley Waterfront and Sustainable Urban Development Neighbourhood in Waveney District Council's Local Development Framework, and is described by commercial property expert and selling agent Craig Knights, of Arnolds Keys, as "an important strategic site."
The wharf, formerly occupied by paper recycling business Maybanks, consists of 7.54 acres, including both land and part of the Lake Lothing waterway.  Buildings include over 15,000 sq ft of warehousing, 7,800 sq ft of workshops, 1,500 sq ft of offices, and ancillary buildings.
The whole site is on the market for freehold sale, with an asking price of £650,000.
Craig Knights of Arnolds Keys, which is the appointed agent for the sale, commented, "This is an important strategic site, situated as it is right on the Lake Lothing waterfront, and in the development area which is seeing regeneration such as the former Sanyo site which is now owned by Waveney District Council.
"Future regeneration will include construction of roads and the much talked-about third crossing over Lake Lothing, which will provide much improved links between the northern and southern parts of Lowestoft.
"The site has consent for both B1 business use and B2 general industrial , which makes it an attractive proposition for a variety of potential purchasers – including developers wanting to take advantage of the growing demand for warehousing facilities in the town."
Share this story