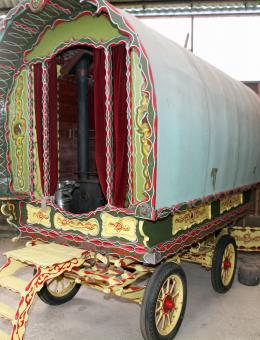 HUGE NORFOLK RURAL BYGONES COLLECTION TO GO UNDER THE HAMMER
Published 28 February 2016
A stunning bowtop horse-drawn Romany caravan, a 19th century showman's caravan and a genuine vintage shepherd's hut are amongst the items up for sale on Saturday 5th March, when a huge collection of bygones, horse-drawn vehicles, machinery and equipment go under the hammer.
Collected over nearly half a century by the Bakewell family, the 350 lots form part of the Norfolk Shire Horse Centre Collection, currently housed at Hillside Animal and Shire Horse Sanctuary at West Runton.
Now a large part of the collection is to be sold to make room for the sanctuary to house more animals – and the result is one of the most extensive bygones sales in recent years.
Around 350 lots will be up for auction at the sale, including vintage tractors, horse-drawn carts, wagons and caravans, vintage farm machinery and equipment, and harnesses.  The auction, which is being conducted by Norfolk-based agricultural specialists Irelands, takes place at the Hillside Animal and Shire horse Sanctuary on Saturday 5th March at 10.30am.
Included in the sale are:
A bowtop Romany caravan with canvasses, fully decorated and complete interior –estimate £8,000 - £10,000
A large two-horse showman's caravan on wooden wheels, dating from 1889, with original interior – estimate £8,000 - £10,000
A Burton caravan on solid Dunlop tyres, dating from 1896 – estimate £5,000 - £6,000
A shepherd's hut on iron wheels with small stove – estimate £1,000 - £2,000
Three 1940s vintage tractors
David Bakewell, who started the collection with his wife Jonquil in 1972, said, "Our family spent many years building up the collection, and when we sold the Shire Horse Centre to Hillside Animal Sanctuary and retired in 2008, we decided to leave the items on display for the public to enjoy.
"Now that hillside want to make space for more animals, there is a lovely opportunity for people who collect rural bygones, or who have an interest in light and heavy horses and horse-drawn vehicles, to bid to own part of Norfolk's rural history."
"This is one of the most exciting bygones collection we have seen up for sale for many years, " said Tom Corfield of Irelands.  "Not only are there many interesting lots which have been collected over 44 years, but because they have been kept inside barns on display to the public, the majority are in excellent condition as well.  We are expecting big interest from bygones enthusiasts from all over the UK."
Irelands is part of Arnolds Keys.
Share this story