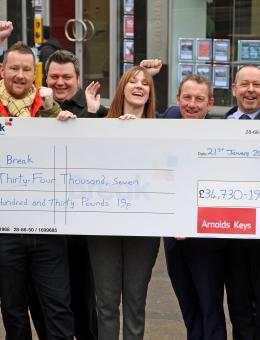 £34,730 DONATION TOPS YEAR OF FUNDRAISING FOR NORFOLK PROPERTY FIRM
Published 24 January 2016
Staff at a Norfolk property firm have smashed their own fundraising record – raising a staggering £34,730.19 during 2015 for nominated charity, Break.
Arnolds Keys, which includes Keys Fine Art Auctioneers in Aylsham and agricultural property specialists Irelands, chose the charity to coincide with their support for Break's GoGoDragons! initiative in Norwich.  As well as lots of activity surrounding the firm's dragon, Luda, staff set about raising money by way of a range of activities throughout the year.
A Sports Challenge involving 11 other professional firms, a series of Antiques Roadshow style valuation days across the county and two charity golf days were amongst the initiatives undertaken by staff.
Receiving the cheque, Break fundraising manager Michael Rooney said, "This is a fantastic effort by all the staff at Arnolds Keys, and a wonderful way to complement the support that the firm gave to the GoGoDragons! event. 
"It is particularly nice to see that so many staff have been involved in fundraising activities throughout the year – and of course, the size of the donation reflects this splendid effort."
Phil Cooper, chair of Arnolds Keys' staff charity committee commented, "We really enjoyed our year with Break, who were proactive in working with us and motivating staff to get involved. 
"I'm delighted that we are able to hand over such a big cheque, and I would have no hesitation in recommending Break as an excellent choice of charity to support – both because of the valuable work they do to support young people in our community, and because they are great people to be involved with.
"We are also extremely grateful to renowned young Norfolk artist Kieron Williamson, whose generosity with his time and talent enabled us to raise so much money for this very worthwhile cause."
Arnolds Keys staff choose a charity to support each year.  For 2016 the chosen charity is mental health charity Norwich & Central Norfolk MIND.
Share this story