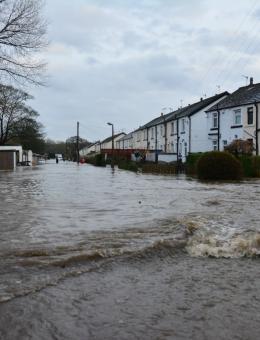 DEALING WITH DISASTER
Published 10 November 2023
The havoc wreaked in Norfolk by storms Babet and Ciaran in the past few weeks has resulted in much media coverage about the consequences for householders, writes Catherine Hunt. 
We are all aware of the effect of disaster on homeowners, but if you are a landlord, have you thought about how emergencies such as this impact your tenants – and what your responsibilities are to support them?
All landlords should have a comprehensive insurance policy which reflects the fact that the property is let, and which should include cover for such eventualities, but when there is water flooding through their home, do your tenants know who they should be calling? 
Most insurance policies have approved contractors (such as plumbers, heating engineers or locksmiths) who must be called to ensure the insurance is not invalidated if an emergency callout is required. In cases where landlords self-manage, they need to make sure that their tenants have all the relevant details when they start the tenancy.
It is also a good idea to ensure that your tenants know the basics, such as where the stopcock is to turn off the water in the event of burst pipes, or internal flooding.
If a flood was not caused by the tenant's own actions (such as those caused during the recent storms), a landlord is responsible for making good any damage to the property and re-instating any damaged appliances, carpets and furniture supplied with the property.  Tenants are responsible for their own personal belongings, which is why it is essential that they have adequate contents insurance cover.
Should a property be deemed to be uninhabitable as a consequence of a floor or other unforeseen event, it is typically a case that the landlords' insurance will cover alternative accommodation while repairs are carried out. If the damage is so severe and the property cannot be repaired, the landlord and tenant will need to negotiate to end the tenancy. 
For many 'amateur' landlords, dealing with potential emergencies ranks as one of their primary concerns about having a residential letting property.  Few individual landlords have immediate access to contractors to deal with such problems, and fewer still want to contemplate receiving a call about emergencies from their tenants in the middle of the night, on Christmas Day, or just as they are boarding a plane to go on holiday.
This is therefore one of the big benefits of using a lettings agent.  Agents have the numbers of emergency contractors on speed dial, they are used to fielding panic calls from tenants in distress – and they are far less likely to be given the runaround by evasive insurance loss adjusters seeking to wriggle out of their responsibilities.
Share this story