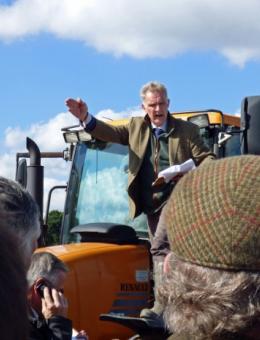 £500,000 Sales At Norfolk Farm Machinery Auction
Published 24 September 2015
Over 300 local farmers and farm machinery dealers from across the UK took part in brisk bidding at a farm machinery and equipment auction in north Norfolk – with the hammer coming down on more than £500,000 worth of lots.
Top price among the 400 lots was £114,000 paid for a Claas 660 Lexion Combine, which was bought by a south Norfolk farmer. A Sands Vision self-propelled sprayer made £70,000, a 2014 Claas Axion 840 tractor sold for £48,500, and a Simba Horsch drill went for £17,400.
The sale also included some well-maintained vintage tractors, including a 1947 Field Marshall Series 2 vintage tractor which sold for £9000, a 1954 Fowler Vintage Crawler which made £5,300, and a Rare Albion Vintage Lorry for restoration which sold for £2,600.
The sale, at Hall Farm in Crostwight, was on behalf of Alston & Donald & Clan Farms, who are re-organising their farming business, and was conducted by agricultural property specialists and auctioneers Irelands, part of Arnolds Keys
"We are delighted with the results of this auction, especially considering the difficult time that the second-hand agricultural machinery market is in at the moment," said Simon Evans, partner at Irelands.
"Many dealers are sitting on large stocks of machinery, with the exchange rate working against them when it comes to overseas sales. Fortunately, Irelands has a very loyal and substantial following amongst local farmers, and many of the lots were bought by this market for use on farms in the area.
"Despite the state of the market, the sale also attracted trade buyers from across the country, with dealers travelling from as far as Devon and Yorkshire to attend the sale. This sale was unusual in that it included much recent machinery with very low hours, which added to its attraction."
Total hammer prices at the auction exceeded £500,000. Irelands next farm machinery and equipment sale takes place on Wednesday 14th October at Park Farm in Aylmerton. Full details can be found here.
Share this story