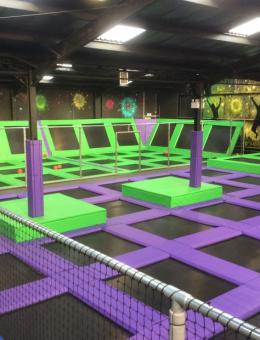 North City Business Premises Bounces Back
Published 3 September 2015
A former carpet warehouse in the north of Norwich has been brought back to life as a trampolining centre – evidence of how leisure use can help empty business properties bounce back into use, according to a leading city commercial property expert.
The 9.800 sq ft former CMC Carpets showroom on Whiffler Road had been vacant for a long period, before springing back into use as the 'High Altitude Trampolining Centre', a new business set up by local entrepreneur David Vincent.
The move was made possible after a ten year lease was negotiated between with the owner, a private client's pension fund, by Guy Gowing of Arnolds Keys, who said that seeking such leisure businesses was a good way of bringing long-term vacant former retail warehouses back into use.
"The growth of online retail has changed the demand for these traditional retail warehouse units," said Mr Gowing. "We are having to be creative in how we seek to market them, and the leisure sector is one area where there is an opportunity to put a spring back in the step of this market.
"Businesses such as High Altitude are looking for lots of space, good parking and access, and proximity to lots of people, which means residential areas. Business estates such as Whiffler Road are well-placed to offer this, especially as there are thousands of new homes planned within a mile or two radius of the site."
The 9,800 sq ft attraction offers wall to wall trampolines all connected together to form one huge bounce area with angled trampolines forming the sides, allowing users to literally bounce off the walls. There are also areas for dodgeball, basketball and dunkball.
High Altitude Trampolining Centre owner David Vincent commented, "Finding the right venue for a business such as ours is crucial, both in terms of the actual space, and its location close to where people live. I have found the expert advice from Arnolds Keys very important in allowing us to find these premises, and to negotiate a deal which works for us as a business."
Share this story