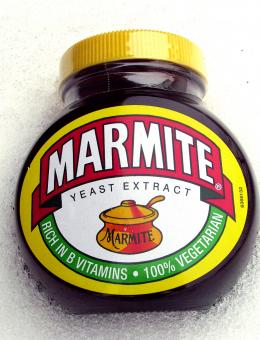 TIME TO DE-MARMITE YOUR HOME
Published 21 October 2016
As the winter months approach, settling down in front of a nice roaring fire with a cup of tea and some Marmite toast is an inviting prospect, writes Clive Hedges. 
So fans of the yeasty spread will have been worried for 48 hours last week when it looked like supplies were going to disappear off the supermarket shelves.
As so often happens when supply is interrupted, demand suddenly soared, exacerbating the shortage of the stuff in the shops.  Fortunately, good sense prevailed, and Tesco and Unilever were able to sort out their differences quickly.
There can be little doubt that there is still a mismatch between supply and demand in the housing market, too.  The Office for National Statistics reported last week that turnover in the nation's housing stock decreased in 2015 to 4.3 per cent; what that means is that 95.7 per cent of us stayed put in our homes.
That figure is up from the dark days of 2012, but it still means that fewer people are moving than has happened historically, and so those who want either to buy for the first time or move on up the chain are finding the choice available is smaller than they might imagine.
This of course is good news for those thinking of selling their homes, but they shouldn't start to believe that the situation is such that they don't need to prepare their home properly for sale.  One person's 'individual' taste in décor may appeal to them, but 'Marmite houses' – which people either love or hate – will be slower to sell than those which have been prepared to appeal to the widest possible number of people.
So if you think you will be selling your home over the winter months, now is the time to tidy the garden and get some photography done on a nice bright October day, rather than taking one in the depths of winter and hoping that potential buyers will be able to imagine what your outside space looks like in the sunshine.  And get those interior shots done before the Christmas decorations go up.
Now is also the time to tackle the de-personalising and de-Marmiting which will transform your home from into something with a mainstream appeal. 
De-personalising means removing as many of those family photos from the wall and kids' drawings from the fridge.  This may sound harsh, but you want your potential buyers to imagine the life they could live in your house, not be reminded of the life you have lived there.
De-Marmiting could involve stripping off that quirky (for which read hideous) wallpaper you put up, replacing garish cushion covers and bedspreads with something more neutral, or removing those 'humorous' cartoons in the downstairs cloakroom.
It's great that the nation's favourite yeast spread is back on the shelves at Tesco.  Just remember that when it comes to selling a home, the less love-it-or-hate-it you can make your property, the more likely you are to sell it.
Share this story