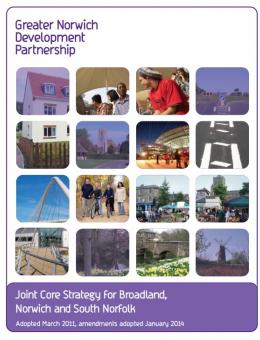 Time to speak up on growth strategy
Published 29 September 2016
It was very interesting to attend a workshop of selected planning and development professionals earlier this month, writes Managing Partner Guy Gowing, to discuss the new Joint Core Strategy for the Greater Norwich Development Partnership area (Norwich, Broadland and South Norfolk).

While these documents can sound rather dry and esoteric, we are currently at an important moment in terms of planning, and it is vital to get it right. The coalition government, facing a time of economic stress, relaxed planning restrictions to help kick-start development and the wider economy - a move which was justified, but should be viewed as extraordinary, Critics have said that this relaxation gave developers a 'free for all'; it should certainly be viewed as a temporary measure. So it is good to see a more normal, structured approach to planning returning.
Southern England has a very high population density: put simply we are an advanced economy with a very limited land mass. So a properly structured development plan is vital if we are to balance the various pressures such as the need for more homes, creating jobs through commercial development, and the natural desire to preserve the environment and character of our county.
The new Greater Norwich Local Plan, which will run to 2036, will follow the existing plan which runs until 2026; it comes at a time of great change for Greater Norwich. Although we shouldn't expect any major new retail development in the city, the various traffic schemes in the city centre will (eventually) be completed, and these will result in evolving traffic flows around the city.
But the biggest change will come with the completion of the NDR in the autumn of 2017. This will have an even bigger effect on traffic flows, as well as freeing up many new development sites right around the north of the city.
Growth, transport, housing, the economy and the environment: all of these present challenges as we move forward into the next stage of development and it is really important that we find a way to balance these sometimes competing needs, and a properly structured Local Plan is the key foundation to achieving that balance.
The new plan will go out for consultation in the autumn of next year, This is the opportunity to shape what the future development of the area will look like, and this is something which is too important to be left to politicians alone.
Share this story