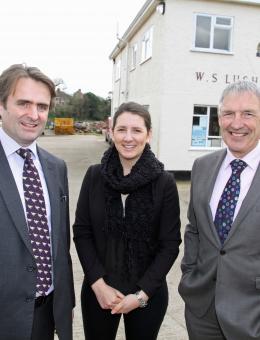 PRIME 2.25 ACRE DEVELOPMENT SITE IN SPROWSTON UP FOR SALE
Published 10 April 2016
A longstanding Norfolk building firm is to move from the site it has occupied for more than 80 years, as part of plans to invest in its future. 
Chartered Building Contractor W.S.Lusher & Son Ltd has put its valuable 2.25 acre site in Sprowston on the market, with the aim of investing the proceeds back into the firm.  Norwich-based property firm Arnolds Keys is marketing the site as potential development land.
The site currently houses a 2,200 sq ft office building, a 5,253 sq ft joinery workshop, and a number of other smaller buildings.
"The site is now too big for our needs and, as it has been recognised as housing development land, we are looking to realise its value so that the proceeds can support our future plans," said Kim Lusher, great-granddaughter of company founder William Slaymaker Lusher.
"Although our business is 92 years old and has a rich heritage, we have always been prepared to embrace change to ensure that we are ready for future opportunities, which is why we have been able to adapt throughout the years," said Ms Lusher.
Arnolds Keys managing partner Guy Gowing said that the construction of the Northern Distributor Road meant that this was a good time to be realising land assets in the north of the city which were no longer fully used.
"There is strong demand for development land right across the northern half of Norwich, and so now is a good time for landowners such as Lushers to realise assets which are not working as hard as they could be.  There is no point sitting on land which is not being productive, when the value to be gained from that land could be invested in building a stronger business."
The Lusher site is off School Lane in Sprowston, and is being offered for sale freehold, with offers invited in the region of £800,000.  Full details are available from Arnolds Keys on 01603 620551, or via email gareth.mears@arnoldskeys.com. 
Share this story