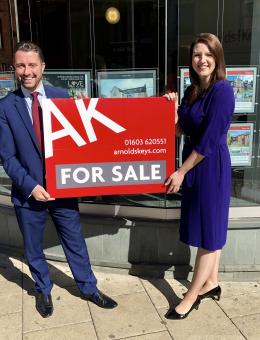 NEW ARNOLDS KEYS FOR SALE BOARDS TO BE ROLLED OUT IN NORFOLK THIS WEEKEND
Published 21 September 2018
Dozens of new, bright red 'For Sale' boards will be springing up around the county this weekend as Norfolk-based estate agent Arnolds Keys introduces its striking new branding.
A major operation will see every Arnolds Keys residential For Sale board replaced over the coming two days, along with all the To Let boards.
The new boards feature a large and striking white 'AK' graphic on a bright, red board.  The amount of writing on the board has been reduced, with just the agent's phone number and web address featured.
"In these days of online marketing, the traditional For Sale board still has an enormous role to play," said Group Residential Manager Martyn Baum.  "It is an immediate and eye-catching way of signalling that property is for sale, and is one of the ways that we drive potential buyers online to look at the home's details, or to contact us to find out more. Our new look is currently being rolled out across all of our branches, and will feature on window cards, particulars, brochures and other marketing material.  The For Sale boards are one of the highest profile examples of this, and we will be out and about all weekend ensuring that the smart new boards are in place by Monday."
Share this story