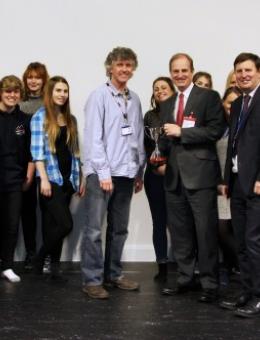 It's All Drama As Paston Sixth Form College Receives New Cup
Published 30 March 2015
Drama students at Paston Sixth Form College are competing for a new prize, after it was announced that an award for Drama and Performance will be made at the College's Awards Evening in September.
The Arnolds Keys Cup for Drama and Performance, sponsored by local estate agents Arnolds Keys, will be given for the first time at the event.  It will be awarded to a drama or Performance student for their contribution to drama across the spectrum, taking into account both academic and creative achievement, as well as attitude, willingness and ability to work and support others.
College Principal Kevin Grieve said, "Paston has a long tradition of excellence in drama and the performing arts, and many of our students go on to study at leading universities and top drama schools.  We wanted to reflect this excellence in a student award, and we are delighted that Arnolds Keys has agreed to sponsor the award and present the cup."
Handing over the cup to Mr Grieve and Simon Thompson, Head of Drama and Performing Arts, Arnolds Keys North Walsham manager Mason Burrell – himself a keen amateur actor – said, "I know from personal experience how performance can really enhance your confidence, and Paston has an excellent reputation in this field.  So we are delighted to be sponsoring the award and presenting this cup.
"I look forward to meeting its first winner at the Awards  Evening in September."
Share this story