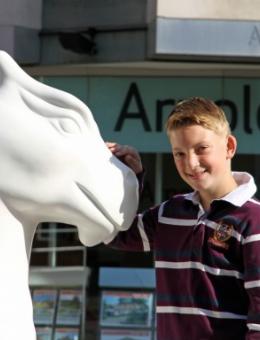 Dragon Painted By Kieron Williamson To Be Unveiled
Published 13 April 2015
The latest dragon taking part in the GoGoDragons! event in Norwich is to be unveiled at Norwich Castle – and it is set to take the artistic world by storm.
Painted by Norfolk's own 'mini-Monet' Kieron Williamson – who despite being only 12 years old, has already achieved sales of his pictures exceeding £1.5 million – 'Luda' is themed around the tale of the Ludham Dragon.
Luda will be unveiled by Guy Gowing from dragon sponsor Arnolds Keys at a special event in Norwich Castle Keep on Thursday 16th April.  The dragon will be auctioned at the end of the GoGoDragons! event, to boost the amount raised by organisers, local charity Break.
Twelve-year-old Kieron's works have seen unprecedented demand from collectors, with the biggest price achieved for one of his pictures being a staggering £45,000.  In 2013 his total sales broke the £1.5 million mark, with one exhibition earning £250,000 in 20 minutes.  Some of his works have been sold by Keys Fine Art Auctioneers in Aylsham, part of dragon sponsor Arnolds Keys.
'Luda' is themed around the story of the Ludham Dragon, a folk tale dating from the 18th century, when reports suggest that a large reptile was caught in the village and killed (more details of the legend on the attached PDF).
Kieron Williamson said, ""Being invited to paint a dragon by Arnolds Keys for Break was a fantastic opportunity.  The dragon theme ties in with a local legend and it is my favourite place to paint; the images I've included on the dragon are significant to me.
"I just hope that throughout the summer trail people really become aware of the Break charity and all their efforts in helping young children in care and young adults who are moving on.  It's easy for me to do what I love, and being a part of Break's GoGoDragon 2015 scheme has been a real pleasure and privilege".
Phil Cooper from Arnolds Keys said, "We are delighted that Kieron agreed to paint our dragon, and look forward to unveiling Luda to an eagerly waiting world.  It is great that Kieron has chosen to theme his work around such a local legend, and this will give thousands of people the opportunity to view his work close-up – and when Luda is auctioned in October, someone will get to own a truly unique piece of Norfolk art.
"On top of all of this, we are confident that Luda will help raise lots of money for Break, which is a great local charity doing such good work in Norfolk."
Michael Rooney, Fundraising Manager at Break, said, "from the moment we knew that Kieron was prepared to paint one of the GoGoDragons! we have been eagerly awaiting to see the finished result.  We are certain that people are going to be amazed at what has been achieved.
"The fact that we have a prodigiously talented Norfolk artist painting a dragon sponsored by a local company raising money for a Norfolk based charity is a great story.  We are indebted to Arnolds Keys, Kieron and the whole Williamson family who have been so incredibly supportive of us, as Break looks to help vulnerable children, young people and families."
GoGoDragons! will run from 21st June to 5th September 2015 in Norwich city centre.  It is a Wild in Art event brought to the city by Break.  Further details can be found at www.gogodragons.co.uk, on Facebook GoGoDragons, and on Twitter at @gogodragons2015 and by using the hashtag #GGD15.
Share this story