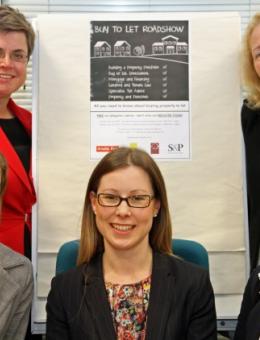 Buy To Let A Great Investment – But Take Professional Advice, Say Experts
Published 10 June 2015
Residential buy to let remains a great investment – but it is essential to take professional advice before starting out.  That was the message drummed home to 75 aspiring property investors at a special seminar in Norwich this week.
Some of the county's leading experts in buy to let came together to give presentations and answer questions on a wide variety of topics linked to residential property investment, from financing the purchase, the tax implications, how to structure a tenancy agreement and what kind of property makes the best investment.
Speakers from financial advisers Smith & Pinching, accountants M+A Partners, solicitors Clapham & Collinge, and lettings agents Arnolds Keys shared their expertise at the event.
The audience heard that nearly one in five homes in the UK are currently privately let, with government estimates pointing to that figure rising to one in three by 2032.  Forty-five per cent of homes bought for buy-to-let in the last year were to 'amateur landlords', with the first time buy-to-let investors aged 45.
There was good news regarding yields, with residential rents in the East of England rising by 12.5 per cent in the year to April 2015 – the biggest increase in the UK, higher even than London.
"Buy to Let remains a very popular form of investment in an era of very low bank interest rates," said Arnolds Keys partner Jan Hÿtch, one of the speakers at the events.  "Get it right, and it can give an excellent return.  But there are many pitfalls for the inexperienced, which is why it is so important to take proper advice before taking the plunge.
"There are so many aspects to becoming a residential landlord, from the legal to the tax implications, as well as securing the right finance, structuring your investment in the right way, and choosing the right kind of property."
As well as the presentations, attendees at the event, which took place at City College's Business School at St Andrew's House, Norwich, had the chance for one-to-one advice sessions with teams from the four participating firms.
For those who missed the Norwich event, the seminar will be repeated on Tuesday 16th June at The Atrium in North Walsham, from 6pm – 8pm.  Attendance is free, but places must be booked in advance; to reserve a place, contact Alex Atkinson at Arnolds Keys on 01603 216812 or via email at alex.atkinson@arnoldskeys.com.
Share this story