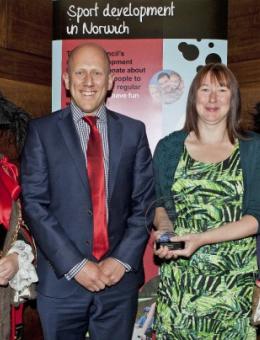 Arnolds Keys Gets Active And Gets An Award
Published 10 June 2015
Estate agent firm Arnolds Keys has won a prestigious award for promoting an active and healthy lifestyle for its staff and business partners.  The firm won the Active Norfolk 'Active for Health' Award in the Norwich Sports Awards last week, receiving a trophy from Lord Mayor Brenda Arthur.
Judges praised Arnolds Keys for working hard to 'build physical activity into the ethos of their organisation and support their employees to be active on a regular basis, as well as taking the lead to get other Norwich companies more active'.
The Norwich Sports Awards are organised by Active Norfolk, the county-wide partnership which works to increase participation in sport and physical activity.
Arnolds Keys is well-known amongst the city's professional firms for organising the annual Sports Challenge, which sees 12 firms completing in a number of sports activities across the summer months, as well as raising money for charity.
The firm also encourages staff to take part in physical activity, taking part in sponsored cycle rides and running races, as well as supporting a regular in-house running club on Wednesday lunchtimes.
"In an era of increasing obesity, it is vital that employers encourage physical activity, especially among staff who are office-based," said Arnolds Keys partner Craig Knights.  "We take the health and wellbeing of our staff seriously, and we have worked with Active Norfolk through the Fit 4 Work programmes to offer initiatives that support our staff to lead healthy lifestyles.
"We are delighted that this has been recognised with this award, although the real reward is a healthier, more active workforce.  We would encourage any employer to support their staff to be more active – the benefits are huge."
Share this story