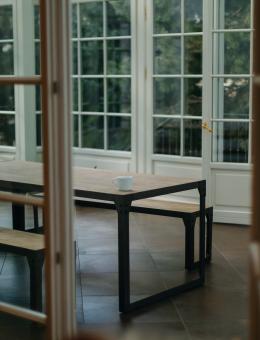 ASPIRATIONAL OR NAFF AND OUTDATED – THE CHANGING PERCEPTION OF THE CONSERVATORY
Published 5 May 2023
I read an interiors feature recently which suggested that avocado bathroom suites might be about to make a comeback, writes Jan Hytch.  I'm dubious about this myself, but it is a neat illustration that our homes, like so much else in life, are subject to the vicissitudes of waxing and waning fashion.
A study last week about the effect a conservatory can have on the desirability of a house really brought this home.  Not so very long ago, a conservatory was one of the most aspirational home improvements, but it is incredible how fast they have fallen out of fashion.  In 2006, half a million were built; in 2017 that figure was just 77,000.
It's not hard to see why.  In an era of soaring energy bills and rising awareness of energy efficiency, a badly-insulated room made mostly of glass which is too hot in the summer and too cold in the winter doesn't make a whole lot of sense.  Most conservatories will have a negative effect on a home's EPC, which is an increasingly important consideration for buyers.
They are not even that useful.  There is a limited number of days when they can be used, and many quickly become ad-hoc storage areas for children's toys, extraneous pieces of furniture and those curious unpacked boxes which we all seem to have around the house somewhere.
When it comes to selling a house, this counts.  Although a really well-designed and built conservatory can add value to a house, the report last week from the House Buyer Bureau says that they can in fact reduce the value of a home – by as much as £15,000.  They are regarded by many as 'naff' and 'outdated'.
I have not yet seen a buyer pull out of a sale because the house has a conservatory, but it's not unknown for their offer to be reduced by the amount it will cost to demolish the offending structure.
If you are considering building a conservatory on your home , you need to do it with your eyes open about the impact it will have on its saleability when the time comes.  If you go ahead, ensure it is well-designed, in keeping with the overall style of your house, and above all that it is as well-insulated as it can be.  Or better still, consider an alternative, such as an extension with roof lights, or even a separate summer house.
If you are selling a home which already has a conservatory, then try and dress it as attractively as possible (so get rid of all that accumulated junk), take advice on how you can minimise its impact on your EPC, and consider installing as much insulation as you can.
And whatever your thoughts about conservatories, definitely steer well clear of the avocado bathroom suite…
Share this story