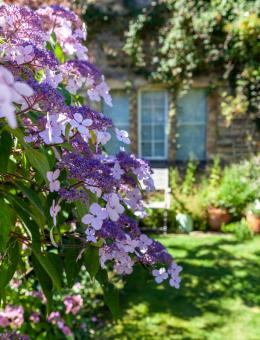 HOW TO ENSURE SALES ARE BLOSSOMING
Published 7 April 2023
April, and at last the sun is shining.  We can put winter behind us, and as we move into the Easter bank holiday weekend, the advent of spring has us all thinking of outside living, writes Jan Hytch.  Fire up the barbecue!
You may want to take advantage of the sunshine by sitting in the garden with a book, but if your house is on the market, or you are contemplating selling, then this weekend is the perfect opportunity to get out the gardening gloves and make sure your outside space is as appealing as it can be.
Much as many people love to watch TV chefs working away in the kitchen while they eat their takeaways and ready meals, there are many among us who cannot claim to be green-fingered, but for whom the attraction of an English country garden looms strong.  And this is something that those seeking to sell their house need to bear in mind.
You might get away with a nondescript exterior during the drab winter months (although a splash of colour never does any harm), but at this time of year, a tidy, well-kept garden is a major part of a property's kerb appeal.
Buyers know that if the garden - and the front garden in particular - is tidy and well-maintained, then the interior will be equally attractive.  It shows that the owner cares about the property.
And when the sun is shining, buyers will want to visualise using the garden as an extra living space where they can relax and let the kids play.  If your garden is well-kept and tidy, that visualisation becomes much easier for them.
So if you are selling, start by taking a good look at your garden.  It is amazing how much difference just a few easy steps can make: cut the lawn (adding stripes if you can), trim the edges, prune overgrown shrubs, and get to the garden centre to buy some colourful bedding plants. 
None of this need cost massive amounts of cash, or take hours of your time, but it will add considerably to the immediate appeal to potential buyers, attracting more viewings, and making those viewings more likely to blossom into a sale.
And if your house has been on the market for a few weeks, the current sales photos were probably taken during the winter months.  Once you have tidied up outside, get your estate agent to take a few new pictures, reflecting the garden in its sunny, spruced-up state.
Don't forget also that sunny weather and light evenings show up issues such as dirty windows and dusty internal surfaces, which may not have been noticed in the dark winter evenings.  So a decent spring clean will help the buyer appeal of your property, too.
One final thought: when you know you have a house viewing coming up, and the weather is fine, take out and clean your outside furniture and dress the patio or decking area as if you use it every day.  Psychologically, if the inside space is smaller than the viewer is hoping for, the prospect of another outside relaxing or dining space that can be used in the summer months is easily conceived.
Share this story