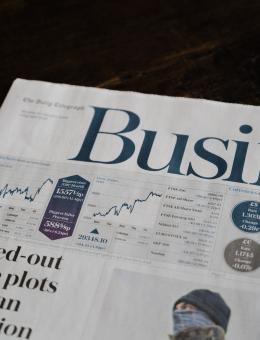 SOME LEVEL-HEADED ADVICE WHICH WON'T MAKE THE FRONT PAGE
Published 19 April 2023
There is something about investments that attracts exaggeration; if you believe the media, markets are always 'booming' or 'crashing', writes Guy Gowing.  To be fair, this headline-grabbing is often the fault of PR departments in firms which should know better, and we all know that a measured, thought-through comment will never attract as many column inches as predictions of potential untold riches or financial doom and gloom.
The property investment market is not immune from such exaggeration, and nowhere is that truer than in the residential buy-to-let sector.  During its rapid growth, we saw promises of huge, almost risk-free yields to be made from residential lettings, and now we are seeing equally over-stated predictions of a crash in that market.
This week saw an interesting take on this, with one property firm claiming that 140,000 residential landlords have sold up in the past 12 months simply because they have reached retirement age and want to 'cash in their nest eggs'.
Whilst this story is rather stronger on rhetoric than it is on evidence – despite well-publicised issues, the residential lettings market remains strong – there is some indication that some buy-to-let landlords are seeking to exit the market due to a changing tax environment and the effects of stricter environmental regulation.
The buy-to-let sector is unique in that a meaningful proportion of investors are what might be termed 'accidental' or 'amateur' landlords.  By this, I mean they either fell into being a landlord (by inheriting a property, for example), or else their investment is a side-line rather than their main source of income.
Commercial property investment is often – wrongly – viewed as a closed book to this kind of investor.  Whilst we can all understand what is involved in renting out a home, many view buying and managing a commercial property as a more opaque, more involved process.
It's true that a more professional approach might be called for (although I would argue that the days when residential landlords could be anything but professional are long gone).  But that does not mean that the commercial property market shouldn't be an attractive and accessible prospect for people who might be considering alternative property investments.
The good news is that there are attractive returns to be made in the commercial sector.  This is a market which investors don't necessarily need huge amounts to enter (a common misconception), and where leases tend to be longer-term than in the residential sector.
The commercial property market is one where professional advice is crucial (actually, so is the residential lettings market, it's just that too often people don't take it), but it is also an area where small-scale investors can succeed just as much as large institutional landlords.
None of which is going to make the front page, or set the media world on fire.  But that doesn't make it any less true; the most successful investors are those who are willing to listen to level-headed advice, rather than be swayed by screaming banner headlines.
Share this story