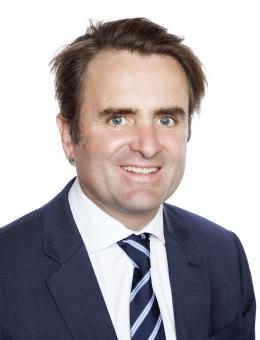 2017 LOOKING STRONG FOR THE COMMERCIAL PROPERTY SECTOR, SAYS LEADING EXPERT
Published 4 January 2017
2017 will be a strong year for the commercial property market as investors seek higher return investments and business demand for premises remains strong, according to one of Norfolk's leading property experts.
Guy Gowing, Managing Partner at Norfolk-based property services firm Arnolds Keys, is predicting increases in rents of up to 15 per cent in some sectors – although he warns that bad handling of the Brexit negotiations could undermine confidence.
"Although uncertainty over Brexit is casting a shadow over the economy, Norfolk is relatively well-placed to ride the storm, with its good mix of offshore engineering, emerging technology, and service sector strengths," said Mr Gowing. 
"The fact is that demand for commercial property remains high, and with limited supply in some types of property, we are predicting strong growth in rental yields in 2017."
Mr Gowing has made some specific predictions for the year:
Rents for city centre Grade A offices will rise from their current average of £15.50 to £18 by the end of the year, driven by reduction in supply as office space is either occupied or leaves the market through conversion to residential accommodation under Permitted Development Rights.  Business parks on the periphery of the city will see similar rises.
Retail occupancy rates will remain high on the back of continued consumer confidence – and there will be growth in the popularity of out-of-town retail, driven by planning and consumer demand.  However, continued weakness of the pound could drive up inflation and have a knock-on effect for retail.
With steady tenant demand and continued low supply, industrial and warehousing property will see rents rise by five per cent during 2017, with starter units performing particularly well, reflecting the health and vitality of the small business sector.
Low interest rates will continue to attract investors, with much private equity resources looking for stronger yields than can be achieved through cash deposits.  Mr Gowing is predicting that interest rates will remain at a historically low level, probably ending 2017 at 0.5 per cent.
"Right across the commercial property sector there is strong demand for well-let, good quality buildings," said Mr Gowing.  "Despite uncertainties over Brexit, that demand has if anything actually strengthened in the second half of 2016, and we see it continuing to grow into 2017.
"The only caveat to this – and it is a potentially large caveat – is that this confidence could easily be undermined by poorly-conducted Brexit negotiations, and in Norfolk as in the rest of the country, business will be watching the Government carefully in the hope that it shows a more focussed and positive direction to the negotiations than it has so far."
Share this story