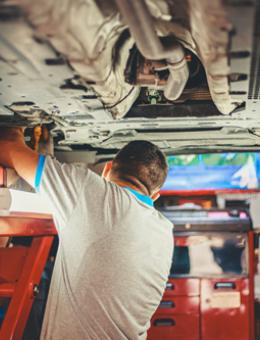 TIME TO CONSIDER 'MOTs' FOR RENTED PROPERTIES
Published 11 August 2023
When the MOT test was introduced for cars in 1960 (it was voluntary for the first year), many people couldn't see the point, but few of us today would want to drive a car on the road without one, writes Phil Cooper.  The annual check-up is a good way of ensuring that your motor remains roadworthy, and it can also flag up potential issues before they become expensive repair jobs or dangerous faults.
Perhaps because of this, the concept of an annual MOT-type test for rented properties is starting to gain traction.  A 2021 survey carried out by the National Residential Landlords Association found that more than half of landlords thought this was a good idea.
At first sight, it might seem like this is yet another hoop for landlords to jump through, but in fact carrying out some basic annual checks on your property could well save you both money and hassle in the long term by identifying issues before they become major problems.  It will also demonstrate to your tenants that you are taking your responsibilities seriously.
There are already checks that landlords legally have to carry out annually: fire safety checks (including smoke and carbon monoxide alarms, and ensuring furniture and furnishings are fire-safe and that escape routes remain accessible); electrical safety checks (including portable appliance testing, and a professional inspection every five years); and gas safety checks (having all appliances and flues checked by a Gas Safe engineer).
On top of these mandatory checks, it is useful to visit the property at least once a year to check on maintenance issues which need sorting out, ensuring there are no mould problems, checking the inventory and making sure the property is secure.
Even simply checking who is actually living at the property and whether this is in line with the tenancy agreement, is in the interests of the landlord.
An annual 'MOT' also gives tenants the chance to raise any issues they have, which can head off more serious disputes, and help ensure the continued smooth running of the tenancy.  Again, this is in both tenant's and landlord's interests.
Any lettings agent worth their salt will be undertaking this kind of annual check on behalf of landlords anyway, but there are plenty who are not, and many self-managed properties which are also missing out.
MOTs for cars became mandatory less than a year after the voluntary test was introduced, and 73 years later, the MOT is an accepted part of owning a car.  Obligatory rented property MOTs are not on the horizon at the moment, but that doesn't mean that they are not a good idea, and well worth the effort for landlords.
Share this story