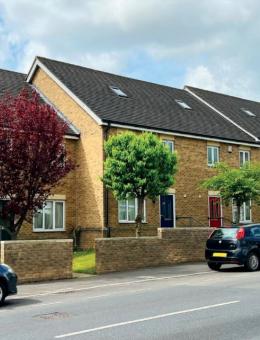 THINKING DIFFERENT IN THE COMMERCIAL PROPERTY MARKET
Published 13 September 2023
During more than a decade of rock-bottom interest rates, investing in commercial property offered returns which were simply not available via more traditional, cash-based investments, writes Harry Downing. 
So now that the base rate has returned to somewhere around its historical average, is commercial property still the attractive place to put your money?
It is true that significantly better returns are available on cash investments right now, but as we have seen, interest rates are extremely volatile, and the best rates on offer are only for a relatively short term – generally one or two years. 
Alongside this, cash investments can only offer income, whereas property-based investments have the potential to offer both income and capital growth.  What's more, investors can leverage their portfolio by borrowing against their property investments, something which is generally not feasible for cash-based investments.
We are increasingly seeing investors seeking out alternative routes from the traditional (and still popular) industrial, retail and office sectors.  One of the biggest growth areas is accommodation for students and key workers, where demand still considerably outstrips supply.
The city has seen several large-scale construction projects in this sector, including Pablo Fanque House in All Saints Green, Benedict's Gate on St Benedicts, and the soon-to-be-completed St Crispin's House, a £50 million development by student accommodation specialist Yugo at the top of Duke Street.
These big developments have increased supply, but with more than 31,000 students currently enrolled at UEA, Norwich University of the Arts and City College, there is still plenty of unmet demand.
At the same time, increased HMO regulation, landlords exiting the residential market and a general shortage of private rented accommodation has diminished traditional sources of this kind of accommodation.
Whilst there are huge developments being built, there are plenty of opportunities for the smaller-scale investor in this sector.  Just this month we have sold a terrace of eight modern five-bedroom student houses for £2.5 million.  These are currently returning a rental yield of 6.76%, which is above anything available in the cash investment market, even if you ignore the potential for capital growth, and the seemingly inexorable rise in rents.
Another reason this market is attractive to investors is that it is as recession-proof as it gets: there will always be a ready supply of tenants, drawn from both domestic and overseas students.
With other opportunities in holiday lets, farmland, electric car charging, renewable energy and leisure land, it pays to think about alternative types of property investment.  The only caveat is that these sectors tend to be less understood than more mainstream investments, so taking expert advice from an agent is more important than ever.
Share this story