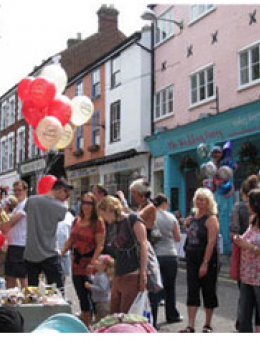 Rising demand for commercial property is a promising sign
Published 27 May 2016
The strength of the commercial property market is one of the best indicators of the health of the wider economy – and given that the UK economy is disproportionately made up of small and medium-sized enterprises (SMEs), then an upturn in demand for commercial premises from this sector is a good sign for us all. 
So we should be encouraged by the fact that occupier demand amongst smaller businesses for all types of commercial property is very strong indeed.
Much of this demand is coming from small businesses which are taking the 'next step'- expanding or taking a first lease after incubator or serviced premises.
So in the retail sector, we are seeing businesses moving into Norwich city centre from more fringe locations.  A particular beneficiary of this are the Norwich Lanes, a part of the city which encourages small, independent retailers. 
We are also seeing strong demand for small industrial units (up to around 3,000 sq ft) from companies seeking more space, better facilities and locations. Developments such as Meteor Close and Javelin Road near the airport are among the beneficiaries of this trend.
Meanwhile, the city centre in particular is seeing a growing number of small firms taking on office space as the improving economy gives them confidence. These are all signs that the economy is buoyant and a booming SME sector means good news for us all. because smaller businesses really are the backbone of UK plc. This is where much new employment is being created, and those companies taking on new people need extra space to accommodate them all.
For commercial property investors too, this is encouraging news.  Demand for these sorts of premises is driving up rental yields, and occupancy levels are as high as they have been for many years.  What is more, there is a knock-on effect, a little like the residential housing ladder, as growing firms moving from such premises seek even larger properties to occupy.
Share this story