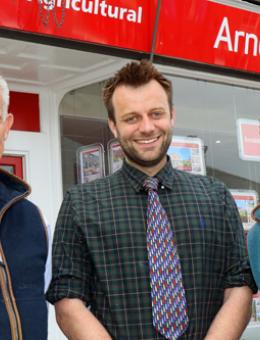 NEW RURAL PRACTICE SURVEYOR APPOINTED AT ARNOLDS KEYS - IRELANDS AGRICULTURAL
Published 23 May 2023
Arnolds Keys - Irelands Agricultural, the rural property division of property services firm Arnolds Keys, has announced the appointment of James Hill as a rural practice surveyor at Associate level.
Mr Hill joins Arnolds Keys after ten years at a west Norfolk firm of land agents.  He has a degree in Business Management and two Masters degrees, including one in Rural Estate Management from the Royal Agricultural University at Cirencester.  Mr Hill's family farms in mid-Norfolk, and he retains connections to the family farm.
Agricultural partner Tom Corfield said, "We are delighted to welcome someone with such a valuable combination of real-life farming experience and over a decade of land agency to Arnolds Keys.  James has both an academic and a practical understanding of the challenges facing farmers in Norfolk.
"Our rural property business is growing, and adding someone with James' skills and experience is an important step in that growth."
Share this story