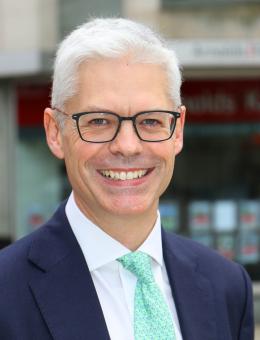 ANGLIA SQUARE ANNOUNCEMENT IS GREAT NEWS FOR THE CITY AS A WHOLE
Published 17 May 2023
It is always nice to hear some positivity in amongst the constant diet of pessimism in the news, so confirmation that the redevelopment of Anglia Square has finally been approved, with work starting later this year, is very welcome indeed, writes Nick O'Leary. 
As well as 1,100 new homes, the development will include 8,000 square metres (more than 86,000 sq ft) of commercial space.
For too long, this part of the city has been an eyesore, not just wasting valuable land, but giving a terrible impression about the economic health of Norwich.  Seeing it brought back to life in the way proposed will be transformative both in terms of the built environment and the wider prosperity not just of the immediate area, but the city as a whole.
The experience of similarly ambitious schemes elsewhere suggests that they can result in the complete regeneration of areas much wider than those immediately involved.  For Norwich, the new Anglia Square development will expand the centre of Norwich northwards, rebalancing the whole city.
There will always be those who don't want to see development, but unloved brownfield sites like this are amongst the best places for it to happen.  Having such a large tract of land standing more or less derelict so close to the city centre makes no sense at all.
The creation of 1,100 new homes will go some way towards alleviating the chronic housing shortage in Norwich; increased supply will be helpful in stopping the market overheating as we come out of the current economic downturn.
There is considerable business benefit as well.  Not only will there be all that commercial space, but creating homes – including a good supply of affordable homes, presumably – will ease one factor which is feeding into the shortage of labour in the city. 
All those people will need shops, cafes and restaurants, services and other businesses, creating business opportunities in a part of the city which has been moribund in recent years.  And let's not forget the considerable number of construction jobs which will be created over the coming years as the development is built
The lengthy planning process which has resulted in this decision may have seemed frustrating at times, but it has ensured that we will end up with a scheme which is appropriate for the city.  Yes, we will have to put up with disruption while construction happens, but it will be worth it for the end result.
This is a significant investment which is a vote of confidence in Norwich's future.  It has the potential to be truly transformative; it's apiece of great news which we should all celebrate.
Share this story