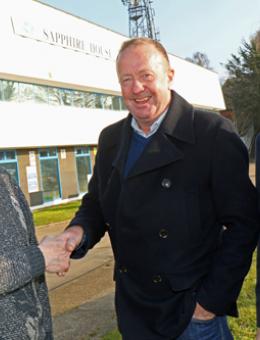 MAJOR COMMERCIAL PROPERTY DEAL SEES 8.37 ACRE NORWICH BUSINESS PARK CHANGE HANDS
Published 1 March 2023
One of the largest commercial property deals in Norwich for some years has been completed with the sale of the 3.39 hectare (8.37 acre) Sapphire Business Park in the north of the city for £4.8 million.
KSI Technologies has snapped up the development, which comprises over 60,000 sq ft of offices and industrial buildings, from Sapphire Property Services, which bought the former British Gas site on Roundtree Way in 2001.
The deal was brokered on behalf of Sapphire Property Services by Norfolk property services firm Arnolds Keys – whose managing partner Guy Gowing also handled the sale 22 years ago.
The site will become the UK head office and distribution centre for KSI Technologies, which is a leading player in the compressed air technology sector.  Existing tenants will remain at the site.
Andrew Rackham, managing director of Sapphire Property Services, whose electrical engineering company Sapphire Controls was based at the site until it was sold in 2018, said, "The property which we developed into Sapphire Business Park allowed my company to expand, and was our operating base until I sold the business. 
"I am particularly pleased that Guy Gowing and Arnolds Keys have been involved from the moment we bought the site right through to the completion of the sale – I have been impressed by their tenacity to see the deal over the line."
Martin Terry from KSI Technologies said, "We are delighted to have secured a freehold property to allow our business to secure its future and expand.  It has been a long-held objective to own our own property, so we were delighted to have the opportunity to buy this site.
"As well as providing us with our UK head office and distribution centre, we look forward to working with the existing tenants on the site."
Guy Gowing added, "We are very pleased to have achieved the successful sale of this complex site, comprising offices, industrial buildings and other commercial space.
"Our longstanding connection with the site enabled us to understand its real potential, and take advantage of the current strength of the Norwich commercial property market.  This is a good example of how building a long-term relationship with your commercial property advisor can help you maximise value from initial purchase through ongoing management and ultimately to eventual sale.
"We now look forward to working with KSI to ensure Sapphire Business Park's continued success."
Sapphire Business Park comprises 22,699 sq ft of office space and a total of 37,819 sq ft of industrial buildings.  Existing tenants include ERS Ambulance, Art Academy East and Norwich Print Solutions.
Share this story