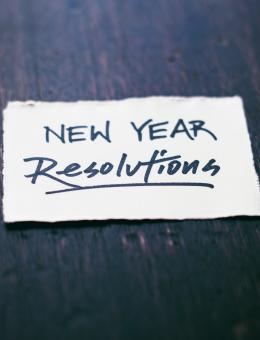 IT'S NOT TOO LATE TO MAKE ANOTHER SET OF NEW YEAR'S RESOLUTIONS
Published 18 January 2023
Almost three weeks into January: and how are your New Year's resolutions going?  Are you persevering with Dry January, or has the lure of a Friday evening Sauvignon Blanc broken your resolve?  Are you still going to the gym, running every other day, eating lots of healthy vegetables, asks Catherine Hunt.
Studies show that by the end of January, more than 80% of us will have broken our well-meaning new year's intentions, and a good proportion of those fail within the first two weeks.  So if you are one of those people and you are a landlord or a tenant, may I respectfully suggest some new resolutions which are well worth sticking with?
The relationship between landlord and tenant is a business one, but it's so much more than that.  It's about providing a home, and that is one of the most important things in life.  We read lots about conflicts between landlords and tenants, but when there is mutual respect and understanding – which is actually in the majority of cases – both parties reap the benefit.
So my plea to everyone involved in residential lettings is to make 2023 the year when we build better relationships between landlords and tenants, to everyone's advantage.
Here are some specific resolutions to consider:
Listen, and communicate: Landlords need to understand your tenants' needs and aspirations, and vice-versa.  This will lead to a relationship of mutual respect, helping to iron out any problems which do occur in a friendly and non-confrontational manner.
Rapid response: Tenants need to report any issues or concerns promptly and proactively, and landlords need to respond quickly, rather than letting issues fester and deteriorate.  That way problems can be solved quickly, and bigger, costly issues down the line avoided.
Secure the property: It is a sad truth that during tough economic times, crime always increases, and particularly acquisitive crimes such as burglary.  These can be traumatic for the victim (i.e. the tenant), and lead to damage to the property and hence costly repair bills for landlords.  The responsibility is mutual here: landlords need to ensure that doors and windows are fitted with quality locks, and might consider fitting alarms and other security measures.  Likewise, tenants must play their part in keeping the property safe and secure.  Make sure both parties have insurance cover.
Maintain and clean: An obvious one really – a programme of regular maintenance by the landlord will increase tenant satisfaction and avoid deterioration and costly bills in the future.  Likewise, tenants have a responsibility to keep the place clean and tidy, avoiding a build-up of dirt which can be difficult to deal with.
Be flexible: We all know that many tenants (and indeed landlords) are feeling the financial pinch right now with the cost-of-living crisis.  If that is you, it's important to communicate with your landlord and try to negotiate a little breathing space.  Many landlords will be prepared to be a little flexible in the short-term to keep hold of a good tenant who is facing a temporary bump in the road.
Mutual respect: For tenants, the property is their home; for landlords, it might represent an important part of their own income.  Respecting where the other party is coming from, and what is important to them, is a vital part of building a relationship which satisfies everyone's needs.
Share this story