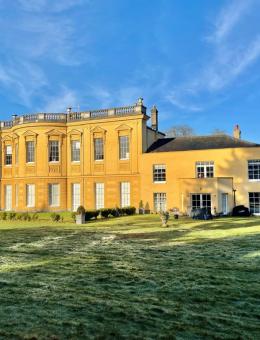 INCREASING DEMAND FOR DISCREET 'OFF-MARKET' PROPERTY SALES SERVICE
Published 13 January 2023
Despite a situation in which there are still more buyers than there are properties for sale, some homeowners are apprehensive about putting their homes on the market; a common reason for this is that the prospect of doing so can be daunting, and the process potentially riddled with unwanted hassle, says James Martell.
The necessity to keep a clean and tidy home, to accommodate prospective buyers who want to view it, coupled with the stress of finding an onward purchase, can be all too much for some.
In recent times we have seen demand for property extensively outstripping supply. Sellers have often been inundated with interest and had no trouble in securing a premium price.  But the market is changing, and not every vendor wants to see their home on portals such as Rightmove, in the local papers, on agents' websites and, increasingly, on social media.
That's why, more so now than ever, it is important to choose an agent who can tailor their service to your individual needs – and why discreet or 'off-market' sales are becoming more common.
Exposure of a property to the masses isn't necessarily the only way to secure the best buyer at the best price.  A professional agent who really understands their clients' needs, and especially a desire to make any move as private and seamless as possible, will be constantly building relationships both with vendors and properly qualified buyers, and can effectively play matchmaker to find a seller their ideal purchaser.
An off-market sale can appeal to clients across the board, from a modest bungalow to a large estate home, and no-one is excluded from benefitting from this service.  For example, recently we oversaw the sale of a high-end eco home in the heart of the Golden Triangle, completely off-market, to a buyer and seller who both required discretion, time and understanding.
This kind of approach requires rather more than the standard 'off-the-shelf' estate agency offer, and as a result it is generally local, independent agents, who have a much deeper understanding of the local market and have taken the time over many years to build quality personal relationships, who are best placed to offer this kind of service.
A discreet marketing service needs to be bespoke and built for each client: offering the ability to expose the property to buyers who have been hand-picked by an agent who understands exactly what the vendors wants - without internet exposure or 'For Sale' boards, using just local knowledge and expertise.
The first and most important step towards discovering a discreet marketing service is to talk with your local, independent agent.  It is crucial that the agent is prepared to work to build a rapport with the client, so that they can understand each individual's particular needs.  Sometimes effective marketing doesn't mean shouting from every rooftop!
Share this story