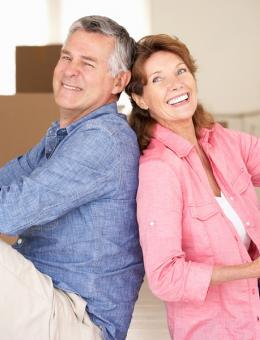 HELPING THE 'LAST-TIME BUYER'
Published 15 February 2017
Over the past few years, we have seen all sorts of initiatives aimed at first-time buyers.  But whilst helping this group is vital if we are to move towards a more balanced, healthy housing market, there is another group out there who could make an equal contribution towards solving our chronic housing crisis, if only we could help them, too: 'last-time buyers'.
At a time when there is a massive shortage of homes, there are over 25 million unoccupied bedrooms in the UK.  We have the situation where young families are stuck in small houses in which they are bursting at the seams, whilst an older generation of empty-nesters are still living in large family homes many years after their children have flown the nest.
 An interesting piece of research published this week showed that just six per cent of people aged over 65 have downsized, with the majority expecting to wait well into their 70s before doing so.  If we could encourage these people to move into accommodation which better matched their current (as opposed to past) needs, we could get that natural progression along the property ladder working better.
It is likely that downsizing earlier will become more common in the future, as current working generations reach retirement age without the generous final salary pensions that previous generations have tended to enjoy.  Freeing up equity which is locked away in too-big houses is the obvious way to provide for a comfortable old age.
Of course, for many, some of that equity might also be used to help children or grand-children make their own first steps onto the property-owning ladder.
The lack of suitable homes to downsize into is the number one reason given by the survey for older people delaying making the move.  Retirement is itself a lifestyle, and older people who may not need so many bedrooms still want the space to indulge their retirement hobbies and entertain extended families.
On occasion helping people to find the right property for their 'last-time buyer' purchase requires some lateral thinking.  Just before Christmas we had a couple in Sheringham struggling to find the perfect downsizing property; I also knew of a family looking for a bigger home to accommodate their growing children.
I was able to put the two together and arrange what amounted to a 'part-exchange'.  These are the kind of human-touch deals which can only be done by estate agents with years of local knowledge and a real, personal understanding of clients' needs.  Not something a website could ever do. It is creative thinking which is needed to solve the last-time buyer dilemma.  Older people rattling around in multi-bedroom homes are only going to downsize if we can provide suitable homes which meet their needs, and just as importantly their aspirations – because we shouldn't assume that because it's their last home, it isn't every bit as important as their first was. 
Share this story