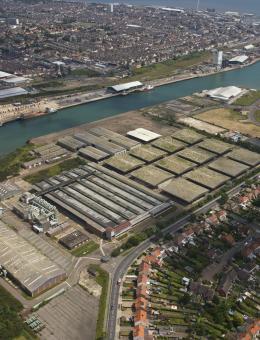 BIG WAREHOUSING LETTING DEAL BRINGS IMPORTANT STRATEGIC LOWESTOFT INDUSTRIAL SITE BACK INTO USE
Published 27 July 2017
One of Lowestoft's biggest industrial sites has been brought back into use following a deal brokered by our Commercial Department. 72,500 sq ft of warehousing on the former Boulton & Paul site at Waveney Point has been let to Harleston-based Neil Bomford Haulage.
The site on Waveney Drive has been unused for some years, despite being located adjacent to the proposed third river crossing in the town.  The warehousing deal is the first to be struck at the site, where a total Of 630,000 sq ft of buildings is available across a total of 34 acres.
"This is an important first move towards bringing this strategic industrial site in Lowestoft back into full use," said Robert Flint, Head of Commercial Agency, which has an office in the Orbis Energy Centre in the town, "not only will this move bring employment back to Waveney Point, but hopefully it will be the catalyst for a renewal of activity on what is sure to be a vital commercial site in the coming years."
The firm is still marketing units on the rest of the site, including the 148,000 sq ft former main production building, a further 74,700 sq ft of warehousing, and nearly 300,000 sq ft of open-sided storage units.  The site also has berthing facilities within the port of Lowestoft's inner harbour.
Share this story