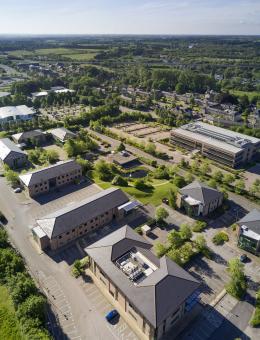 A STRONG INDICATOR FOR OPTIMISM
Published 2 August 2017
We keep hearing mixed messages about the performance of the economy, with inflation unexpectedly down this month, talk of uncertainty over Brexit hitting business confidence, and consumer spending slowing – but here in Norfolk at least one indicator suggests that we are in a better state than the commentators would suggest.
The sign that we are outperforming expectations is the strength in demand for good quality office accommodation, especially around Norwich.  The number of deals which have been done over recent weeks demonstrates a real confidence.
So far in 2017, over 200,000 sq ft of office space has been let in Norwich alone.  That is more than in the whole of 2016.  And if anything, the pace of activity is accelerating through the year; something like 40,000 sq ft worth of deals were agreed in July. 
At St Andrew's Business Park, we have three office buildings totalling over 18,000 sq ft under offer, and strong interest in a fourth building which is over 16,000 sq ft.  All of these deals have been made possible by the relocation (through expansion) of these buildings' former tenant – as one employer expands, others are coming in behind them to occupy the office space they leave behind.
Businesses committing to commercial property is as good an indicator of the strength of the economy as anything.  Whilst we hear doom and gloom in the media, this pessimism is not driven by business itself; if anything it's the result of government action (or indeed inaction).
Norwich was one of the first cities in the UK to transform itself into a strong service sector base, and that is one of the reasons why the city is bucking the economic trend.  The new jobs which are being created here are good quality, and in many cases, high value. 
That is something which will benefit the whole economy of the area, creating jobs in sectors such as construction, retail and hospitality.  And that is why a buoyant commercial property market is great news for the city and the wider county.
There may be an element of uncertainty at the moment, but businesses are realising they cannot simply sit it out and wait to see what will happen.  With 140,000 sq ft of office space in the city already converted into residential use, there won't always be the ready supply of offices available, which is why we are seeing so many deals being done while they are there for the taking.
Share this story