Clive Hedges |
FNAEA | MARLA
Branch manager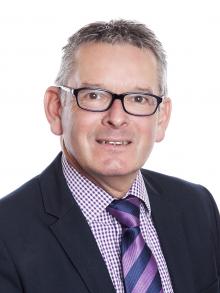 Joined | 1974
Location | Sheringham
Clive joined Arnolds Keys straight from school – in fact, he was working for the firm on Saturdays even before that. Although he has completed training in the auction rooms, Clive's first love is residential, and was formerly the Partner in charge of the Residential team. He now heads our very successful team in our Coastal office in his home Town of Sheringham. He still enjoys the cut and thrust of the deal, and makes sure he keeps his hand in by carrying out residential valuations and negotiations.
Having been with the firm so long, he often finds himself handling the sale of properties he first sold more than 47 years ago.
Sheringham born and bred, Clive is married with two teenage daughters. After his family, his two passions are running and music. He is Chair of the North Norfolk Beach Runners, and has run the London Marathon seven times, as well as four other marathons, with his personal best time a very creditable 3hrs 10 mins 10 secs. His musical activities include playing tuba with the Sheringham Salvation Army band.
Clive's ambition is to break the three hour barrier in a marathon.