Kevin Atkins
Valuations Surveyor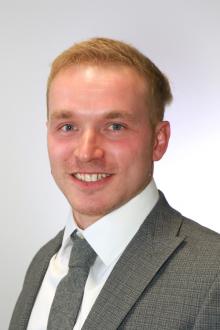 Joined | 2023
Location | Norwich
Kevin carries out commercial property valuations for a number of applications, including lending and pension fund valuation.  He is also involved in other aspects of our Commercial division, assisting with rent reviews and lease renewals.
Born and bred in Norwich, Kevin graduated from the University of Greenwich in 2016 with a degree in Property Development and Management, and qualified as a Chartered Surveyor in 2021.  His career has seen him working at King's Lynn & West Norfolk Borough Council and at Norwich City Council and its partner organisation NPS, undertaking a variety of property management and valuations roles.
A keen sportsman, he is passionate about skiing, enjoys five-a-side football, and takes part in fitness racing, including Hyrox, a combination of running and functional workouts.  He lives in Norwich with his partner and their two cocker spaniels.
Kevin has two unfulfilled ambitions: to go into space, and to design and build his own home, although he accepts the former is unlikely.