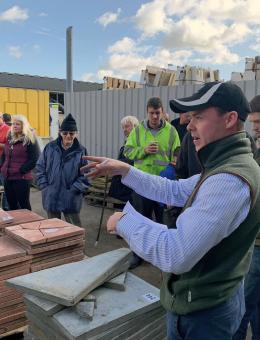 The perspective of a Graduate Rural Surveyor
Published 8 November 2019
We had an auction a couple of weeks ago in Haddiscoe which was my first time auctioneering, bringing the 'hammer down' on around 100 lots.  Now the sale has completed, it has given me cause to stop and reflect on the first two years of my career as a rural surveyor.
As another cohort of Rural Estate Management students embarks on the final year of their degrees, it is a good time to offer some thoughts on entering this great career, one which plays a central part in the smooth running of our entire rural economy.
I joined Arnolds Keys - Irelands Agricultural in 2017 after completing a BSc (Hons) in Agricultural Management followed by a Masters in Rural Estate Management, both at the Royal Agricultural University in Cirencester.
The Masters in particular was pretty full-on, an intensive year filled with much academic and theoretical learning about all aspects of land management.  What I didn't foresee was that the subsequent two years, spent working in a small busy team of rural surveyors would be just as much a learning process – in fact more so.
It is probably the same in most careers, when the transition from learning at University to applying that knowledge in the real world takes place.  I imagine it's all too easy to lose sight of the challenges that transition presents once you are many years into a career, so may I offer some advice to those who are now starting their final years and considering what comes next?
First of all, and perhaps the most important lesson, is that it is never too early to start building a network of contacts, developing relationships which will be the very lifeblood of any career, and especially one which is pursued in the close-knit and mutually-supporting rural community.  It's not just about landing that first job, so don't wait until graduating to start building your network.
Secondly, get as much work experience as you can.  I was lucky enough to spend time in a couple of larger West Country firms while studying which helped me crystallise in my mind how I wanted my career to progress. 
Such work experience is also useful in working out whether you are better suited to a larger or a smaller firm.  Both have their advantages: larger firms may have a more structured training scheme, whereas the chances are in a smaller firm you will gain experience across a wider range of disciplines more quickly.
Finally, don't be scared of broadening your horizons, it's good to get away to experience another part of the world, whether for study or work.  That doesn't mean you can't come home at some stage but you will do so with a different perspective which will stand you in good stead.
When you graduate, it's tempting to take the first job (or indeed any job) which you are offered.  But those first two years of work will form the platform for the rest of your career, so it's worth taking some time to understand exactly what will suit your ambitions.
Share this story