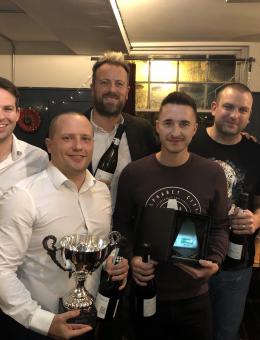 TEAM FROM BARCLAYS CARRIES OFF TENTH ANNUAL PROFESSIONAL FIRM SPORTS CHALLENGE TROPHY
Published 19 November 2019
Barclays has proven itself to be the most sporting professional firm in Norwich, after a team from the bank carried off the trophy in the 2019 Arnolds Keys Sports Challenge – the tenth year that the event, which sees teams from a dozen city professional firms compete in various events across the summer, has taken place
The Challenge saw teams battle it out over a number of sporting events, including paintballing, canoeing, go-karting, five-a-side football, ten-pin bowling and a quiz finale.
Twelve teams from solicitors, property professionals, architects, accountants and financial firms in the city battled for the title, with accountants Lovewell Blake taking the runners-up spot and R.G.Carter taking bronze medal position.
The challenge was launched in 2010, and has been held every year since.
"Over the past decade, the Arnolds Keys Sports Challenge has firmly established itself as a popular way for professionals to team build, network, fundraise, try new activities, and keep fit," said Tom Corfield, partner at Arnolds Keys, who organised the Challenge with colleagues Tanya Chapman and Mark Mayhew.
"When we first ran the Challenge in 2010, it was going to be a one-off, but those taking part enjoyed it so much that it has cemented itself as an annual event.  For our tenth anniversary year we squeezed in an extra event, and it was a very successful and thoroughly enjoyable year."
Share this story