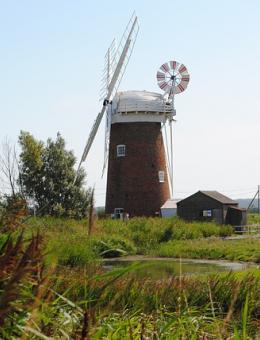 STAND BY FOR A BROADLAND TOURISM-INSPIRED PROPERTY SURGE
Published 7 April 2021
With UK breaks in self-contained accommodation opening up next week – and with the receding prospect of holidays abroad any time soon – Norfolk's tourism hotspots can expect a busy year. 
And when visitors, tired of lockdown life in the crowded city, arrive here, it is inevitable that some of them will look around and decide to put down roots in the county.  Norfolk's biggest allure has always been its lifestyle, and as we come out of the pandemic, that is truer than ever.
What does this mean for arguably the county's biggest and most unique tourism area, the Broads?  Should those with property in the area - who are thinking of selling - be sprucing up their homes ready to get them on the market to meet a surge in demand from inspired holidaymakers?
The answer in many cases is yes, they certainly should.
The Broads has always been an area in high demand from those seeking holiday cottages and second homes, but the difference this time around is that the demand is for main residences.  Those who no longer need to commute regularly are 'switching' – moving their main home out of the capital and the south east, perhaps keeping a London pied-a-terre – and so it is 'normal' homes which the market is crying out for.
The huge waterside mansions come onto the market so seldom and always sell quickly; bijou holiday cottages have always been popular.  But it is the three and four-bedroom family homes, with decent broadband and travel connections, which are now increasingly in demand.
Inevitably, the towns and village which people see on their holidays tend to be top of the list when it comes to those people wanting to put down more permanent roots.  
Whether it's Wroxham, the hub of Broadland life, or quieter, more rural places such as Ranworth, people are seeking space, the ability to access good travel connections, and – because home working is driving much of this ability to move out of the capital – decent broadband.
The limited supply of such homes in the holiday hotspots will inevitably mean that the search-net will widen.  Places like Coltishall. Reedham and Ludham – all of them perhaps more geared to serving permanent residents rather than holidaymakers – will all appeal.
It would be wrong to talk up a Broadland house price boom, but certainly here as elsewhere the mismatch between demand and supply is putting upwards pressure on prices.  The Broadland holiday season is a limited one, so this tourism-driven property surge in demand may not be forever.  So spring would seem the perfect time for potential sellers to come to market.
Share this story