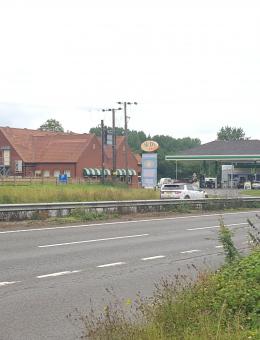 NEW DRIVE-THROUGH STARBUCKS SET TO OPEN FOLLOWING 'MAJOR' A11 PROPERTY DEAL
Published 28 September 2017
A new drive-through Starbucks is set to open on the southbound A11 near Attleborough, following a major leasehold deal negotiated by Arnolds Keys.
The site of the former 'Mr D's Diner' at Besthorpe has been let on a ten year lease to the multi-national coffee giant, along with adjacent land on which the firm plans to build a drive-through outlet, as well as operating a conventional coffee shop in the building formerly occupied by Mr D's Diner.
Arnolds Keys' commercial team negotiated the deal on behalf of a private local investor who owns the freehold.  In all, just over one acre of land is covered by the deal.
"The fact that such a major international company is investing in a long-term lease at Besthorpe, as well as in expanding the site and building the drive-through, is a further indication of the growing importance of the A11 corridor," said Guy Gowing, Arnolds Keys Managing Partner.
"We are about to come to market with another important site a little further along the A11, and we are already seeing strong demand for this kind of commercial property opportunity on this important trunk road." 
The new Starbucks is due to open in 2018.  The adjacent BP garage and M&S food outlet does not form part of the deal, and is unaffected.
Share this story