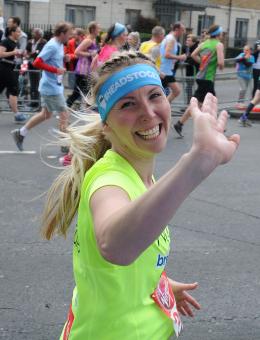 NATALIE COMPLETES LONDON MARATHON AND RAISES OVER £2,300 FOR BREAK
Published 25 April 2017
Arnolds Keys receptionist and administrator Natalie Roebuck has raised around £2,300 for East Anglian children's charity Break by completing the London Marathon – her first marathon.
Natalie completed the gruelling 26 mile race in 4 hours 27 minutes – which means that on average she covered each mile in just a shade over ten minutes.
Guy Gowing, managing partner at Arnolds Keys, commented, "We are all very proud of Natalie's achievement, both in completing her first marathon, and in raising so much money for a great local charity."
Anyone wanting to boost Natalie's total can do so by donating at www.justgiving.com/fundraising/Natalie-Roebuck. 
Share this story