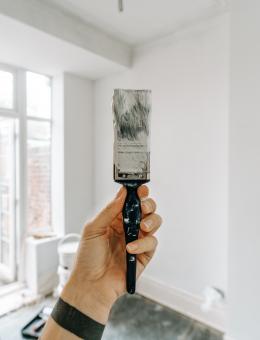 DON'T AUTOMATICALLY BRUSH OFF TENANT REQUESTS TO REDECORATE
Published 17 March 2023
We may have had a cold snap recently, but lighter evenings and warmer weather are just around the corner, and with spring, householders often turn their minds to not just cleaning, but redecorating.  It is the season of renewal, and that holds for our homes just as much as anything else, writes Catherine Hunt.
That's fine for home-owners, but what about tenants?  Tenancy agreements often include a ban on undertaking any kind of redecoration, but tenants who want to make the home their own – presumably with the intention of staying put for at least the medium-term – are good news for landlords, too. 
So should landlords be sympathetic to requests from tenants who want to get the paintbrushes out, and what precautions do they need to take to protect their property?
Tenancy Deposit Scheme (TDS) guidance suggests that rental properties should be redecorated every six to seven years.  If a landlord has not done this, then a tenant offer to do it for them could be a godsend.  Don't automatically refuse such requests without at least considering their merits.
If you do agree to let tenants redecorate, it is important to establish exactly what they want to do.  Which room(s) do they want to paint?  What colour?  Will they just be doing the walls, or the ceilings, woodwork, radiators too?  How capable are they of doing a good job?  Will they do the necessary preparation work such as filling cracks and holes?
Once you have agreed that, make sure you put it in writing.  If you don't then the stipulations in the original tenancy agreement will still apply, so it's vital for both parties that everyone understands exactly what has been agreed.
One important consideration is to think about what will happen at the end of the tenancy.  If the tenant has chosen a 'bold' colour scheme, you might insist (and confirm in writing) that they return the property to the colour it was at the start of the tenancy (or pay to have it done).  Landlords should certainly ask to inspect the work once it is done to ensure that the work has been carried out as agreed, and to an acceptable standard.
The tenant might be doing the landlord a favour, carrying out redecoration work which they would otherwise have had to get done themselves.  If this is the case, it is worth considering contributing to the cost (for example, paying for the paint), as the tenant will have preserved the value of the property, and quite possibly saved the landlord money and hassle at the same time.
A tenant who is prepared to invest their own time and money into a rented property is probably the kind of tenant you want to hang on to.  Sometimes, that consideration is more important that a rigid adherence to the letter of the tenancy agreement.
Share this story