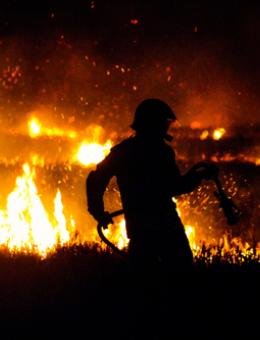 DAMPING DOWN THE RISK OF HARVEST FIRES
Published 1 July 2023
As harvest approaches and the dry, sunny spell of weather continues, the ever-present threat of farm fires should be on everyone's mind, writes James Hill.  
In 2021, the last full year for which statistics are available, the cost to agriculture of farm fires was £95.6 million, according to NFU Mutual.  It seems inevitable that 2022, one of the hottest and driest years on record, will have seen a significant increase in that figure.
It would appear that due to climate change dry conditions are becoming the norm.  Rainfall over the winter was 17% below average, with just 55% of expected rainfall coming in May (both Met Office figures).  Should dry conditions prevail this summer, farmers must continue to be vigilant to avoid 2023 delivering an unwanted record in terms of harvest fires.
Fire fighters talk about the 'Three Thirties' condition, when the temperature is above 30°C, humidity below 30%, and wind speed over 30km/h.  When this happens, the risk of fire is dramatically increased, and the chances of being able to fight a fire effectively are slim.
One cause of field fires is discarded items such as bottles or cigarette ends. It is difficult to mitigate against this.  To reduce the risk of stack fires, it is preferable to locate them away from public highways, even though it is often inconvenient to do so.
However, one of the biggest risks is combine or baler fires, caused by a combination of any of the following: striking flints, dust, overheating, electrical faults and fuel. 
One member of the fire service suggested that farmers may want to consider delaying harvest if more benign – i.e. cooler - conditions are forecast, although everyone appreciates the need for combining crops at the optimum time to maximise yield and quality.  Meanwhile farmers can ensure that scrupulous regular cleaning and maintenance routines for combines and other equipment are in place, to minimise the risk of debris catching alight within the machinery.
Other tips to prevent harvest fires include fitting a fire suppression system to the combine, using a mobile compressor to regularly blow away debris from the machine and always stopping to investigate hot-running engines or bearings.  Knowing where local water supplies are situated, having a fire extinguisher on board combines and tractors and even a bowser filled with water on hand, and the old standby of a cultivator on a tractor to create fire breaks are all sensible precautions.
Should the worst happen, helping the Fire Brigade respond quickly is vital.  The Fire Service recommend using the What3Words app so you can direct fire fighters to specific field gateways and accessible farm tracks to tackle any fire.  Before harvest it would be a good idea for all those involved on the farm to list the What3Words ID of all such locations and keep them at hand in case of an emergency.
Fire can be devastating; as many of 40% businesses which suffer a serious fire never trade again. We can never entirely eliminate the risk of fire, but taking sensible measures to minimise that risk will hopefully ensure a safe and successful harvest.
Share this story