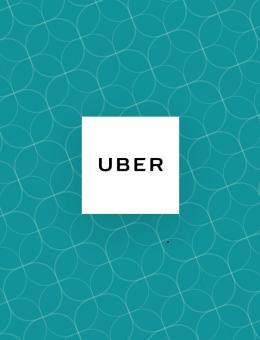 NOT UBER-IMPRESSED WITH ONLINE AGENTS
Published 23 March 2018
With Facebook dominating the headlines this week, the role of technology, and how it has 'disrupted' various markets, is in many people's minds.  Whether it's Uber for taxis or online estate agents in the property market, we have been conditioned to think that tech-based new entrants have some kind of magic formula which those who have operated in the market for some time have missed.
Actually, the Uber example is a very relevant one when we consider how the 'new' online estate agents are claiming to have transformed the world of property sales.  Like those property 'disruptors', Uber claims to have harnessed technology in a unique way to make the process of ordering a taxi markedly different.
But is it really so revolutionary?  Pretty much every 'traditional' taxi firm has embraced the web, creating booking apps which do exactly the same as Uber.  The difference, of course, is that when you use one of the traditional companies' apps, you know that the car which arrives will be roadworthy, insured and MOT'd, and that the driver will be suitably qualified, licensed and CRB checked – and that they will have the local knowledge to ensure you reach your destination.
The situation is similar in estate agency.  Every single 'traditional' estate agent has harnessed the power of the internet, and the vast majority of buyers now find their property online (although not all – that old-fashioned method of human contact with a database of real people is still very effective).
As with traditional taxi firms, if you instruct a traditional estate agent, you know what you are getting (especially if they are NAEA Propertymark accredited): experienced people with knowledge of the local market; the skills and expertise to deal with the after-sales activities such as keeping chains together and chasing solicitors; and also all of the online tools that the newcomers would have you believe are theirs and theirs alone.
Much is made in the advertising by online agents of the 'misery' of commission.  Few realise that those discounted fees quoted by such operators are not success-based – you pay them upfront, and there is no refund if they fail to sell your house, or if your sale falls through for whatever reason.  Traditional commission may at first sight seem higher, but you only pay it on the successful completion of your sale, and that's a huge benefit.
The upfront, non-refundable fee model is a bit like accepting a discounted taxi fare, but only on the basis that you pay it upfront, and the driver may or may not take you to your destination, and if he doesn't you don't get a refund.  I don't think many people would take that risk – so why would you take the same risk when it comes to parting with considerably more money to sell your house?
Throughout commerce, the real success stories have been those long-standing operators who have combined their experience and market knowledge with an effective embracing of new technology – companies like Argos and John Lewis.  In the end it is proper experience, understanding of human nature and knowledge which will win the day – not a slavish fascination with the newest technology on the block.
Clive Hedges | Residential Partner
Share this story