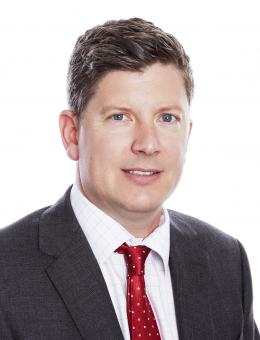 COMMERCIAL PROPERTY MARKET A HAVEN FROM ECONOMIC UNCERTAINTIES
Published 20 April 2016
The last few months have seen the economy building up a head of steam, although several global uncertainties remain looming on the horizon: continued low oil prices; the slowdown of the Chinese economy; the issue of migration; and the EU referendum, writes Mark Davies. 
The government has acted decisively to tackle the overheated residential housing market by targeting reliefs for Buy-To-Let landlords. But at the same time, last month's Budget was well-aimed at supporting businesses, with business rates small business exemption thresholds raised, stamp duty levels for low value properties lowered, and a reduction in corporation tax levels.  These moves will be welcomed by SMEs in our 'nation of shopkeepers'.
In spite of the continuing uncertainty at macro level, commercial property held directly and indirectly continues to be a hedge for the stock market, and investment performance continues to strengthen.  In the absence of prime-grade stock, there is a huge appetite for secondary-tier commercial property with good tenants on longer leases. 
Investors are starting to anticipate rental growth and build it into their valuation of investment purchases, driven by lower vacancy levels, with increased competition from occupiers putting upward pressure on rents at review/renewal.
Meanwhile in the autumn the Chancellor made permanent the Permitted Development Rights, not only enshrining the previously temporary right to change use from office to residential (importantly without any affordable housing requirement), but bringing new classes of buildings into the regulations' reach.
These include A1 shops, A2 financial services and betting shops, and launderettes, as well as offices and light industrial properties.  There are some specific stipulations for these: applications must be received between 30th May 2017 and 30th May 2019, and work stated no later than three years from the approval date.
Local level objections to any application are restricted to those concerned with flooding , contamination, highways and transport, or if there would be any negative impact on the provision of industrial services locally.  The intention is to accelerate a push to convert commercial buildings located perhaps for historical reasons in line with the prevailing residential character of the area.
With confidence in the investment market growing, and increasing incentives from planners in various forms around reduced affordable housing levels, we are an increase in the number of larger sites being sold, notably large sections of previously unloved parts of the city, moves which will in themselves contribute towards regeneration – for example off King Street which will help connect Riverside with city centre, and on the north side of the city centre around Duke Street and the inner ring road, where a number of sites are marked for bold new mixed-use schemes.
If, as is widely accepted, the health of the commercial property market is an indication of the prospects for the wider economy, then the confidence being shown locally, despite global economic uncertainties, bodes well for the future.
Share this story